Fifty key leaders recently gathered at a hotel in Mubende, Uganda, for a two-day Leadership & Visionary Conference. The theme, "That they would hear!" (Romans 10:14), is also the motto of GNN Finland (Good News Networking). The GNN team was responsible for the teachings in partnership with local host, Bp. John Magaba.
Bishops and pastors alike were deeply challenged about the Ultimate Calling of the Church to reach all people with the Gospel. They were shown the current situation of world missions as well as the great need there is to still go and preach the Gospel. Out of every 100 missionaries sent cross-culturally, only 3 will go to unreached areas, although these people groups account for 42% of the current world's population.
There was a lot of thinking going on after the teachings about Jesus-style servant leadership and the importance of character in leading. The price that needs to be paid to keep following Jesus and taking the Good News to all is big, but worth it!
Real-life powerful testimonies of pioneers reaching unreached people groups in South-East Asia also left participants in awe of what can be done when people decide to fully surrender and obey God's call to fulfil the vision of reaching the unreached no matter their age or physical ability. Participants were reminded that it is about vision and not a program!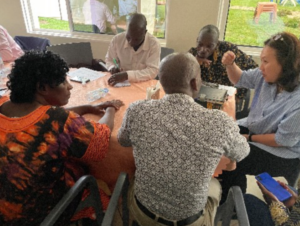 These two days helped stir up the vision of missions and get the participants out of their comfort zones.
Let us continue to work together to take the Gospel to the unreached!
https://gnn.fi/wp-content/uploads/2022/11/Screen-Shot-2022-11-12-at-0.25.30.png
470
526
Tara Morales
https://gnn.fi/wp-content/uploads/2019/03/GNN_logo_small_oikea.png
Tara Morales
2022-05-31 00:31:01
2022-11-12 00:35:42
GNN Leadership and Visionary Conference