Vantaa International Christian Fellowship celebrated her 10th Anniversary on Jan 13th 2019. Some 240 guests attended the celebration, held at Vantaan Minttukirkko which VICF rents for its regular services.
Upbeat music and guest musicians inspired everyone in worship. Rev. Reijo Blommendahl's strong vocals had people holding their breath during his powerful rendition of the familiar song 'How Great Thou Art' in several various languages.
The multinational children's choir from VICF's Kids Ministry also received huge applause for their performance. Greetings were brought forward by Pastor Il-soo Kim, the founder of the Finnish Korean Church, as well as by Pastor Tony Ibarra, the FEIC* coordinator based in Frankfurt.
As Prs. Arto and Orvokki Sädeaho were still contemplating about starting an international church in 2008, a vision Orvokki received one night coupled with a confirmation Arto got from the Bible encouraged them. They then found a couple that had the same vision. This joint work began from point zero (January 2009) with no knowledge of any foreigners in the area.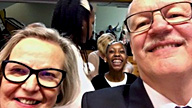 But the Lord has been behind this endeavour. Now, a decade later, this can be seen.  During the celebration a documentary video shared about the birth and growth of the church. Throughout this time there have been people from over 100 nationalities attending our meetings.
Ps. Arto had a hard time talking. His mind was filled with gratitude towards a gracious God. He finished by appealing for the multinational congregation to nurture unity and reminded them how Jesus said that it is the way the world will believe they are His witnesses.
Younger pastors Ndegwa and Jonathan are now taking care of the main responsibility of the church ministry. Pastor Arto is now able to focus on the core objective, VICF's umbrella organisation GNN (Good News Networking), which is to take the gospel to the unreached people groups.
*FEIC (above) is abbreviated from 'The Fellowship of European International Churches'.
This relational network consists of 82 churches throughout 32 European nations.
https://gnn.fi/wp-content/uploads/2019/05/2019-01_VICF10.jpg
683
1112
hacusuuronen
https://gnn.fi/wp-content/uploads/2019/03/GNN_logo_small_oikea.png
hacusuuronen
2019-01-13 23:00:19
2020-06-20 01:41:47
Celebration Time in VICF!